Pawleys Island Specialty Foods is a wholesale food producer based in Pawleys Island, SC. They are the creators and marketers of a popular brand of pimento cheese called Palmetto Cheese, The Pimento Cheese with Soul. Founded in 2006, Pawleys Island Specialty Foods continues to market their product line while identifying new products and assisting them to the marketplace by offering the production resources, distribution channels, sales relationships, and brand marketing expertise.
Palmetto Cheese - Original
The one and only homestyle pimento cheese with real, sharp cheddar cheese and downhome southern charm. It has authentic taste and homemade texture. Serve it on crackers, burgers, hot dogs, and much more.
Palmetto Cheese - with Jalapenos
Do you like your pimento cheese with a little "smooth burn"? This version of Palmetto Cheese has jalapeno flavor, but it is not overly spicy. Palmetto Cheese with Jalapenos is our Original brand that is kicked up a notch!
Palmetto Cheese with Bacon
How can the taste of Palmetto Cheese get even better? Add Bacon! Our newest pimento cheese hit the shelves of all Carolina Piggly Wiggly locations the summer of 2011. It is now available at participating Publix and Bi-Lo locations. We anticipate additional grocers will carry PC with Bacon, so stay tuned.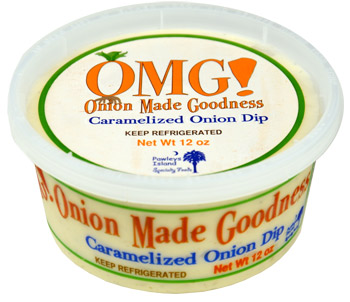 OMG - Onion Made Goodness
OMG! is a caramelized onion dip that is not your ordinary onion dip. It is loaded with real onions and big on flavor. You will get the same quality ingredients and authenticity that you've grown to expect from Palmetto Cheese.
Pawleys Island Specialty Foods continues to develop new products at their new restaurant called
Get Carried Away Southern Takeout
. It is here that other local products are also featured and range from dips, to cookies, to sauces, and seasonings. Get Carried Away has served as a launching pad for
OMG! (Onion Made Goodness)
and helps other local brands get their products into the hands of tourists and area visitors that generate demand beyond the local community. There are many low country and southern favorites featured at Get Carried Away with a focus on comfort food and lots of seafood as well.
Pawleys Island Specialty Foods
P.O. Box 1481
Pawleys Island, SC 29585

Contact Information
Brian Henry
brian@pimentocheese.com